Babylon NY Moving And Storage Services
Serving the residents of Babylon, New York with all of their moving and storage needs, Long Island Moving & Storage is a family owned and operated company that has been in business since 1926. Open seven days a week we are ready to assist you when you need us with prompt, courteous and reliable service for both local and long distance moves. We take pride in our longstanding tradition of impeccable service and low prices.
Free Moving
Estimate OR CALL (631) 994-9500
Professional Babylon NY Movers
At Long Island Moving & Storage, Inc. we are a licensed and insured moving company serving Babylon and all of Suffolk County, New York. We are fully compliant with all NY State DOT and Federal I.C.C. regulations and standards.
Our Babylon movers offer modern moving service with old fashioned care and old fashioned prices. You will find that we have one of the lowest competitive rates in the industry and offer these same low rates all year long. We proudly assert that we have no hidden fees and we do not charge premiums for holidays or peak times. And because we understand your moving needs we provide you with the kind of service you want when you want it. Join the many repeat and referred customers who are thoroughly satisfied with our service and prices.
Client Testimonial
"Dear Bob, I want to say thanks for sending such a good crew to move me from West Islip to Babylon last week. Brian, Steve and Kenny are great movers, although I think Steve missed his calling as a stand-up comedian. He made a hectic day a lot of fun, I must say! Everything went perfect. Best regards,
Paul Orlick, Babylon, NY"
Babylon NY Packing Services
Are you looking forward to packing up your belongings? First you have to find the boxes, buy the tape and bubble wrap and the other supplies that will protect your fragile items. Then you have go room by room, making sure you pack every item carefully. Who has time for that?! At Long Island Moving & Storage, we're here to make your move much simpler. We offer a full packing service that includes a free delivery of boxes and an inventory your belongings!
Private, Secure Storage Units
If you're new home isn't ready but you have to get out of where you're living, we can help! Long Island Moving & Storage provides private, secured storage at our centrally located facilities. Our buildings are climate-controlled and are available for short or long-term storage at affordable rates.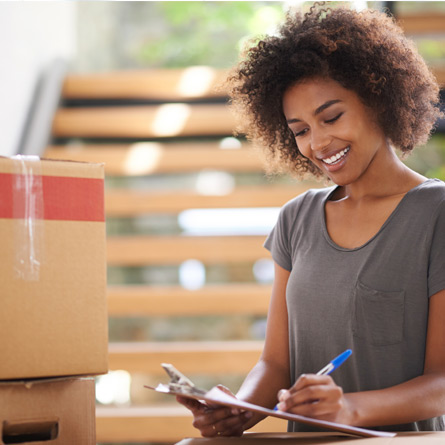 Local Or Long Distance - You Can Count On Our Moving Company
Long Island Moving & Storage, Inc. has been named the "mover of choice" for Long Island's finest homes and businesses and we are committed to providing that high quality care regardless of the size of the move.
Whether your move is small or large, residential or commercial, local or interstate it will be handled with the same attention and quality as the next. We enjoy an excellent reputation and work hard to maintain the status we've earned. Contact our friendly company representatives with any questions you may have or for letters of recommendation.
Free Moving
Estimate OR CALL (631) 994-9500