Moving Services In Bath Beach
Bath Beach is a quintessential, inviting neighborhood of Brooklyn, New York. Many working-class folks call Bath Beach home, and the demand for residence in this community continues to grow. Moving into or out of Bath Beach can be a delicate and time-consuming job. There are many things that must be considered when moving, not the least of which is the safety of your belongings, the time constraints involved, and the traffic concerns. All of these issues must be addressed in order to accomplish a flawless, event-free move. Take the stress out of your move with the help from the professionals at Long Island Moving and Storage. We can orchestrate all of the details and safely bring all your possessions to your new home and thus freeing you up to concentrate on the more pressing matters involved in a move. And, if you need short-term storage to accommodate your time constraints, we've got that covered as well. Whether you are moving across town or across state lines, Long Island Moving and Storage has the experience and expertise needed to accomplish your move safely and on time.
Free Moving
Estimate OR CALL (631) 994-9500
Storage Services
Sometimes there are unexpected events that arise when you are planning a move and sometimes your dates just don't line up. Then there are other occasions when you are in need of a safe, secure place to store your personal belongings for a period of time while you sort out space issues or other concerns. No matter your reason for needing storage, Long Island Moving & Storage is the answer you are looking for. Our climate controlled, brick buildings are conveniently located, alarmed and secured with CCTV monitoring. Your private storage in our sanitized state-of-the-art facility is available for short or long-term storage needs.
We offer overnight truck storage which will save you time and money if you need a holdover for a few days until your new residence is ready. Also, we have several options available for you and can deliver your items to a "self-storage" facility if that suits your needs better. Give us a call today and see how reasonable our rates are when we give you your customized quote.
Client Testimonial
"My wife and I recently relocated from Bay Ridge in Brooklyn to Staten Island using your company. We did not know of any movers so we did a Google search. Long Island Moving & Storage came up very prominently as one of the first movers listed. In visiting your website we were very impresses with the wealth of helpful information it provided and your A+ rating with the Better Business Bureau. No other mover ranked in your category. After calling your office and speaking directly with Gianne (who said she was your daughter I believe), we decided to hire you. Gianne was so very helpful, courteous and informative we knew we were in good hands! Fast forward to today, we ended up with a great move! Professional and reasonably priced! Your A+ ranking in the industry is a well deserved reputation!
John & Teresa Oddo"
Short Haul Residential Moving Services
A short haul move (under 650 miles) can be stressful and time-consuming and often requires the assistance of expert movers. Here at Long Island Moving & Storage, we offer state-of-the-art services at old fashioned prices with old-fashioned care. We are fully licensed and insured and offer you an affordable price with no hidden fees. We will even give you a written moving estimate which includes all fuel, tolls, and mileage fees. Plus, you receive exclusive use of our trucks and our crew. They are specifically assigned to you and your possessions. Period! You will not have to share with another client – ever! And, we offer same day or next day delivery – you pick whichever is most convenient for you.

Our friendly professional staff will arrive in our sanitized, "float-pak" truck and get right to work. They will disassemble and then reassemble your furniture as needed, shrink wrap your upholstered furniture and/or quilt pad it for added protection. You don't even need to empty your drawers! We can wrap them and take them as is. Once we arrive at your new location, we will deliver your property, unwrap your furniture and set it in place, and reassemble any items we disassembled. We are satisfied when you are satisfied.

With free consultation and planning services, no extra charge for weekends and holidays, and a Better Business Bureau and USDOT A+ rating, your move is safe in our hands. Fill out our Short Haul Estimate form today and get started on your stress-free journey to your new home.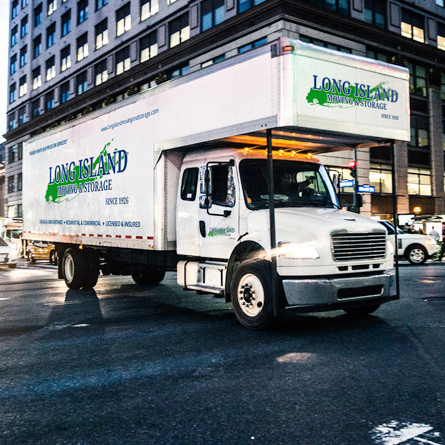 How Much Will It Cost To Move
It is not possible to determine a 'blanket' price to cover every more and situation. Costs are dependent upon size, distance, and other intricate details. We do, however, offer you a free quote for moving and/or storage services. Simply fill out the 'moving quote' form on our web page and one of our friendly, knowledgeable staff members will gladly give you a call with the particulars.
Free Moving
Estimate OR CALL (631) 994-9500