Moving FAQ: How Do I Move My Big And Awkward Belongings?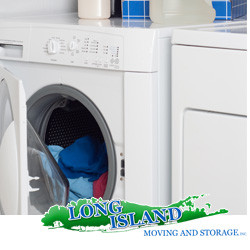 At Long Island Moving and Storage, we frequently get questions about moving large and awkward items. If you have a lot of belongings that you plan to move, chances are you have at least a couple items that seem awkward to pack. Here are answers to some of the top questions we get here at Long Island Moving and Storage to help you plan to move some of the more odd or awkward items you have inside your home.
Q: Can I move my water bed?
A: Yes, we move waterbeds! We do ask that you do a little planning ahead of time, however. Before we pack it, the water needs to be drained completely. If you have a fiber-filled waterbed, you should have it professionally vacuum drained before your moving date; this can help eliminate the awkwardness of moving such a large item.
Q: My dresser is huge; how do I pack this?
A: At Long Island Moving and Storage, we do things differently. Most companies require that you empty out each and every drawer of your dresser before moving. We know that this can be time consuming both while packing and unpacking, so we don't require that you do this! You can keep your dresser drawers they way you like them and we'll be happy to move them for you.
Q: I want to take some appliances with me; how do I prep them for my big move?
A: Moving appliances can be tricky, but it can be done! Before moving, your appliances must be disconnected and if you are moving a washer, you must have a stabilizer installed. Check with your service representative for the specifics, but they can help you find someone local that can help prepare your appliances for your relocation.
If you are in need of qualified moving specialists in Long Island, the pros at Long Island Moving and Storage are ready and waiting to help! Contact us today with your expected move date and we can add you to our schedule without a monetary deposit. Our experienced Long Island movers have many years of moving under their belts and have moved thousands of items, some large and awkward (like water beds, armoires, wardrobes, king sized beds and more!) and some extremely fragile (china dishware, expensive paintings and crystal stemware). We know how to move your belongings to get them to your new destination safely and unharmed; let the professionals at our Long Island moving company handle your next move and you will see why our old fashioned service at old fashioned prices has kept our customers coming back since 1926!