DUMBO NY Movers
Are you looking for a Kings County moving company who will come to the DUMBO (Down Under the Manhattan Bridge Overpass) area to help pack up all your belongings and safely move them to a new location? Then you should see why so many have trusted Long Island Moving & Storage, a locally owned and family operated moving company. We have been in the moving business since 1926, with three generations of Falvo's. We are here for you 24 hours a day, 7 days a week, even on holidays and weekends. We pride ourselves in our quality work and in the integrity of our workers. Our DUMBO moving services are fully insured and licensed. Our crews are very accommodating and we will work with you from your first phone call, to your last furniture placement. Whether it's a residential move or a commercial one, we are your DUMBO movers.
Free Moving
Estimate OR CALL (631) 994-9500
Commercial Moving In DUMBO
Long Island Moving & Storage is your local moving company for commercial moving. We start with a free moving assessment and plan. There is no business to big or small for us to help move. We will work with you to find the best time to move your business. Our focus is to help you relocate quickly with minimal business downtime. Our Kings County movers are experienced and we have the technology and equipment to get the job done right. We have special floor covers if needed and special treatment for computers and sensitive equipment. Let us help you get started today!
Client Testimonial
"My family has been in the Fort Greene area for over 80 years, so it was with a heavy heart that I had to sell and move from our Franklin Ave. home. The family memories and history that are connected to that address are priceless. I didn't know where to begin the process. But Long Island Moving Co., helped ease the pressure tremendously. From the original phone conversation with the estimator (Addy) to the owner Bobby's heartfelt advice and guidance to the actual moving crew sent, everyone went overboard to be helpful! By the end of the process I truly felt like "family"! Thank you! Thank you! Thank you!
Mr. & Mrs. Cassesse"
Packing Services in DUMBO
Are you moving soon? Maybe sooner than you thought and you are running out of time to pack! Don't worry, Long Island Moving & Storage is here to help! We offer high quality packing services and we work with residential or commercial clients. Our packing crews are experienced professionals and are trained to pack a variety of items, including: fine china, glassware, mirrors, chandeliers, art and antiques. We even have custom crates for larger items like TV's and statues. We also offer unpacking and debris removal. We work with third party associates for computer insulation, universal gyms and large safes. Only high quality boxes and packing supplies are used to ensure the job is done securely! Our modern services come with an old fashion price and our family's quality care.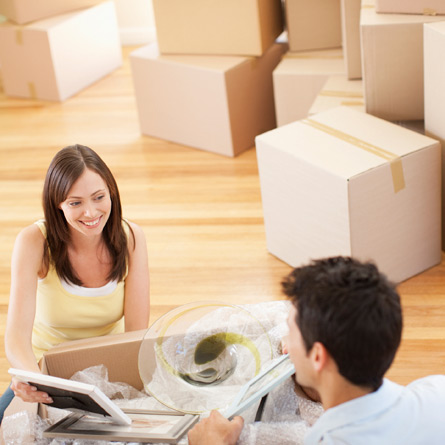 Moving Supplies for Your Next Move
Did you know the glue used on boxes from places like grocery stores attracts roaches and other bugs? Those boxes are also unreliable and an unsafe way to pack your valuables. So when you are getting ready for your next move this may be something you want to keep in mind. Instead of grabbing a few boxes at the local supermarket and risking your item's safety and potential pest invasions perhaps you should check out the boxes and packing supplies offered by Long Island Moving & Storage. We offer a variety of different moving boxes and packing supplies made especially for household items. These quality boxes are the appropriate size and strength to move your items safely. We also offer packing tape, bubble wrap, shrink wrap and padding. For those bigger items such as TV's we have special wood crates. When you order from us we will deliver the boxes to your home for FREE! Nobody wants a pest problem or broken valuables when settling into your new place. At Long Island Moving & Storage, we believe quality packing supplies plays a key role in your move's success!
Free Moving
Estimate OR CALL (631) 994-9500