How To Prepare Your Office For A Move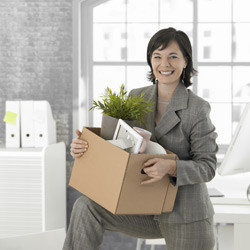 Moving to a new office location can be fun and exciting but it can also be extremely stressful. There is usually a lot to be done when it comes to moving any office and no one wants to have to worry about losing time and money on a move. The key to a smooth and successful move is being prepared. Having a plan in place before other stress factors kick in can help keep your move on track and on schedule.
Once you have found a location, a good place to start prepping is with the blueprints or dimensions of the new space. Knowing the size and placement of all the rooms, walls, doors and windows can be essential. Maybe you want to be sure all of your furnishings will fit, or you're trying to decide which room to make office space and which one to make storage; having a map of your new location can help you do that before you're up to your eyeballs in boxes with no idea where to put them.
Next, you should work on creating a timeline for your move. Start with your projected move date and work your way back. Setting goals for yourself along the way can help eliminate the mad rush to get everything accomplished. Once you have come up with a rough time line, share it with your employees and co-workers. They may have suggestions or be able to tell you if certain aspects of your timeline are in fact do-able. Try to have meetings on a regular basis to keep people up to date on the process. On your timeline, try to include everything from cosmetic changes you want to make in the new space to when certain parts of the office can be packed.
You should also take some time to work out a budget for your move. Figure out all the costs including any days you may have to be closed, to boxes, to expenses to travel between locations. Establishing your budget can help you determine if you're able to hire some professional help for your move. The sooner you know if you'll be hiring movers, the sooner you can start shopping around for moving companies. Otherwise you'll need the time to line up volunteers.
Be sure to make a list of all of your customers and clients and talk to them about the move. Make signs to hang at your current location as well as your new location as a reminder. The last thing you want to have to worry about is losing a customer because they are not sure where to find you. If you're planning to close for part of the move, make sure you have given your customers plenty of heads up about that too.
Once you start packing, try to organize and label your boxes as thoroughly as possible. Pack the things you don't need on a regular basis first and save the things you need daily to be packed at the very last second. Try to think along the same lines when it comes time to load stuff up. Try to load the things you need right away towards the front so it is brought in first.
When it comes to a successful office move, hiring a professional can take a lot of the burden off you. They can take care of the packing, heavy lifting and unloading while you take care of the more important details. Movers can be worth every dime for the amount of time and headache it can save you.