Tips & Ideas For Your Next Move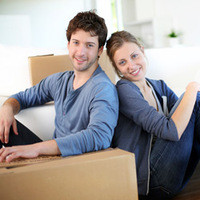 It could be that dream home you have waited for with great anticipation, or it may be that your company has transferred you to a new city; perhaps retirement for you includes moving into a new, smaller home. Regardless of the purpose or reason, moving can be fun or stressful…exciting or dreadful.
However, in addition to the excitement of a new home, moving can also be the perfect time to sort through and eliminate unneeded belongings. Almost everyone has a degree of hoarding tendencies. Often, these items are rarely used or enjoyed and usually become items of clutter. Moving is the perfect time to reduce or eliminate those things no longer needed.
One suggestion prior to moving is to have a yard sale. This has a dual benefit—you will eliminate unneeded items and receive monetary compensation at the same time. Begin planning your yard sale well before your moving date. Remember, every item sold is that much less to pack and move into your new home. By starting early, you can sort through things to place in the yard sale. This may include furniture you won't need in the new house, outgrown clothing, toys the kids no longer play with, outdated items, etc.
You can also begin packing at least one month prior to your moving date. Again, this is the ideal time to use all your organization skills.
Mark your boxes as you pack! The more specific you can label them; the easier it will be on the other end when you begin unpacking.

Make sure your boxes are full. A partially empty box will crush under the weight of other boxes and may damage the contents. You will also want to use the right size boxes and keep the weight of each box under 40 pounds. This will make unloading much easier and quicker. An overloaded box may require 2 people and will often come apart while carrying and spill the contents.

Purchase a roll of bubble wrap to eliminate breakage. Wrap all dishes, glasses, and other breakable items to ensure against damage.

Use your dish clothes to wrap those glass bowls and dishes. This protects the dishes and packs your drying towels and dish clothes at the same time.
Remember, arriving at your new location with everything in boxes can be overwhelming and tiring. To avoid stress after a long, hard day of moving, make sure to pack an overnight bag as if you are going to a motel for the weekend. Be sure you have all essentials and undergarments necessary for an overnight stay. This will keep you from having to sort through boxes that first night. Clear plastic totes are also helpful for those things you know you will need the quickest. Those much needed items can be seen at a glance without wading through dozens of labeled cardboard boxes.
Contact all banks, credit card companies, retirement accounts, 401K, and any other financial or investment account and give them your new mailing address. Pick up a change of address kit from your post office to assist you with your change of address. Discontinue the local newspaper and provide all magazine subscriptions with your new address.
Careful planning and applying these moving tips will make your move so much easier and will allow you to quickly enjoy your new home! And, remember that if you need help with your move, contact the professionals here at Long Island Moving & Storage. We have been in the business of moving people since 1926! That is almost 90 years of experience in safely moving you and your belongings. We always disassemble and then reassemble furniture, and we place all your boxes in their appropriate rooms in your new home making it a move that is as stress-free as possible for you; we will even arrange and rearrange furniture for you until you are completely satisfied with their placement! Call today for your quote and leave all the moving stress to us.